Argentina writes to EU expressing "great concern" because of Spanish ban on bio-diesel
Monday, May 14th 2012 - 23:17 UTC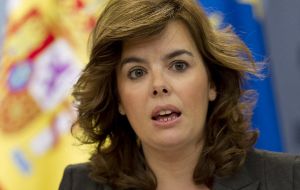 The Argentine government expressed "great concern" on Monday following the decision from the Spanish government to ban bio-diesel "not produced within the European Union" from the country.
In a letter sent to European Union's Trade Director Jean Luc De Marty, the Foreign Ministry conveyed its discomfort over the restrictions considered by the Argentine government to be "discriminatory" and asked for the block's intervention on the matter.
According to the document, the sanctions constitute a violation of the World Trade Organization's agreements for being considered inequitable and alerted the European Union it could potently damage over half of the Argentine exports to Spain and 10% of all trade all together.
"The decision taken by Spain should not be allowed by the EU since its incompatible to commitments taken by the block within an international agreements framework," read the statement released by the Ministry.
Last month, rumours spurred that Spain could retaliate against Argentina for seizing control of Spanish-owned energy company YPF with a measure that could curtail multimillion-dollar imports of bio-diesel from the nation.
After a weekly cabinet meeting on April 20th, the Spanish industry ministry said a plan to sanction Argentina was on march. Deputy Prime Minister Soraya Saenz de Santamaria commented on a bio-diesel plan and many speculated it could be a measure giving preference to European Union-produced bio-fuel in meeting compulsory motor fuel blending requirements. Spain's bio-diesel industry has lobbied for years for such a rule.
Argentina is the world's leading supplier of soy-oil and soy-based bio-diesel. More than 12 million tons of Argentine soybeans were used last year to make bio-diesel, compared with total output of some 49 million tons in the 2010/11 season.