Brazil military police occupies favelas in Rio to prevent full fledged drugs war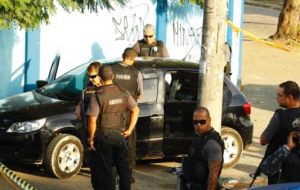 Brazilian police was out in full force to occupy for an indefinite period a group of favelas (shanty towns) surrounding the 'marvellous' city of Rio do Janeiro following the killing of the state's most wanted drug lord.
Early Monday the Rio militarized police arrested the drug-lord "Tia Neia", 30, precisely when he was celebrating the death of his rival, Marcio Jose Sabino Pereira, nicknamed "Mathematician".
Pereira was the most wanted outlaw in Rio and his death "has not closed investigations on drug trafficking" in the 'favelas' of that part of the city, said Inspector Joao Luiz Araujo, head of the Narcotics Repression Department.
"With the fall of 'Mathematician' there will a natural replacement in the leadership of the gang, so most surely we will be making other significant arrests in coming days and months", anticipated Inspector Araujo.
The most wanted drug lord was killed Friday night during an exchange of fire with a heavy armoured police helicopter that managed to locate him with infrared equipment and chased him through out a favela.
The elimination of the drug lord adds to a long list of other well known organized crime leaders killed or imprisoned since the Brazilian Armed Forces moved into the 'favelas' November 2010, ahead of the 2013 Confederation Cup; 2014 World Cup 2014 and 2016 Olympics, hosted by Rio do Janeiro.