EC brighter outlook for 2013: UK expands 1.7% and Euro zone 1.3%
Monday, May 14th 2012 - 05:34 UTC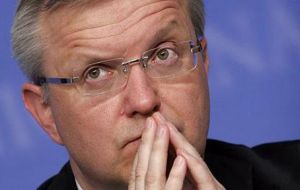 The slow economic recovery is in sight across Europe, the European Commission said on Saturday, with the UK in line for 1.7% growth next year compared with an EU average of 1.3%.
The EC spring economic forecast described UK growth as "likely to remain subdued this year but with a brighter outlook".
The document, analysing the economic data for all 27 member states, said of the UK: "The overall outlook for 2012 remains uncertain but, with an anticipation of stronger real wages improving household consumption growth towards the end of the year and more stability in the UK's export markets, GDP growth is expected to remain positive at 0.5% in 2012 with a further improvement in 2013 to 1.7% as investment rises".
That compares with an estimate of a 1% average rise next year in the 17 Euro zone countries and a 1.3% average growth rate across all 27 EU member states. According to the figures, GDP will be stagnant this year in the EU as a whole, falling by 0.3% in the Euro zone, and rising by 0.5% in the UK.
Unemployment is expected to remain high this year in the EU, at an average 10.3%, and 11% in the Euro zone, compared with 8.5% in the UK and 24.4% in Spain, whose economic woes are now giving biggest cause for concern.
Little is expected to change in 2013, with a marginal fall in UK employment to 8.4%, and an increase in Spain to 25.1%.
Economic and Monetary Affairs Commissioner Olli Rehn told a press conference in Brussels: "A recovery in sight, but the economic situation remains fragile, with still large disparities across member states.
"We are witnessing an ongoing adjustment of the fiscal and structural imbalances built up before and after the onset of the crisis, made worse by the still weak economic sentiment. "Without further determined action, however, low growth in the EU could remain".
Mr Rehn added: "sound public finances are the condition for lasting growth and building on the new strong framework for economic governance, we must support the adjustment by accelerating stability and growth-enhancing policies".