Fuel costs and Spanish recession hit British Airways-Iberia with mounting losses
Monday, May 14th 2012 - 05:31 UTC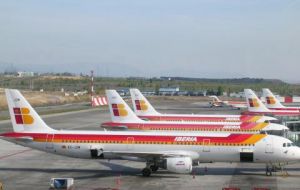 Rising fuel costs and the impact of Spain's economic crisis left the owner of British Airways and Iberia nursing big quarterly losses. International Airlines Group was also hit by industrial action by pilots at Iberia as it recorded losses of 263 million Euros for the three months to March 31, against a deficit of 47 million Euros a year earlier.
Strong demand in London and for transatlantic travel lifted revenues at British Airways but the airline's mounting fuel bill meant its operating losses widened to £62 million from £5 million last time.
Iberia's operating loss of 170 million Euros reflected the airline's worsening performance from its Madrid hub and the strike action, which cost 25 million Euros in the quarter but has now been called off.
Fuel costs for the group were up by 25% on a year earlier to 1.4 billion Euros and at current levels are on track to increase by more than one billion Euros in this financial year.
IAG also highlighted the impact of government taxes, with the UK increasing air passenger duty by double the inflation rate and Spain announcing plans to increase departure taxes by up to 10 Euros per passenger.
The group, which recently acquired BMI, said it now expected to break even for the financial year.
Investec Securities said it believed the break-even forecast looked optimistic. Analyst James Hollins said: "Overall, we believe it is right to remain cautious on the shares".
Passenger revenues growth of 9% to 3.29 billion Euros was almost entirely driven by price, with capacity broadly flat on a year earlier. The company said: "Iberia's performance reflects the weakness of the Spanish domestic market and industrial action by pilots opposed to actions by Iberia's management to improve the airline's efficiencies.
"For British Airways, although the London market and demand for transatlantic travel remains strong, its performance has been affected by rising fuel costs".
IAG completed its £172 million purchase of BMI from German carrier Lufthansa last month, but made clear it did not want to operate the regional section or the airline's low-cost operation, bmibaby.
IAG has started consultation with unions about bmibaby's closure in September, with the potential loss of hundreds of jobs, but plans to sell the regional division to a consortium of businessmen for £8 million. It expects profit dilution from the acquisition and integration of the business to be around 240 million Euros this year.