Germany prepares to receive Hollande but insists on tight austerity measures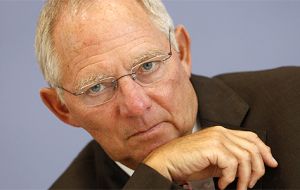 The European Union cannot amend agreed rules on tighter fiscal discipline despite voters' rejection of austerity policies in several countries, and France's new leader must understand this, Germany's finance minister said.
Germany is resisting pressure to ease up on its austerity drive in Europe after the victory of Socialist pro-growth candidate Francois Hollande in France's presidential election and big gains by radical parties in Greece.
Chancellor Angela Merkel's ruling conservatives suffered their own election setback on Sunday in Germany's most populous region of North-Rhine Westphalia, where opposition Social Democrats swept to victory after calls for a softer approach to reducing public debt.
"We can't change treaties that have already been agreed after elections. How can we change a treaty that has been agreed (among EU leaders)?" said Finance Minister Wolfgang Schaeuble, a close Merkel ally, referring to the EU's new fiscal pact.
"President Hollande knows that cannot be done," Schaeuble said during a visit to a Berlin school.
Hollande wants a growth pact to complement the fiscal pact, which requires member states to balance their budgets. Berlin says it too wants stronger growth but not fuelled by new credits that it says would exacerbate the euro debt crisis.
Hollande will hold his first ever face-to-face meeting with Merkel on Tuesday in Berlin, hours after taking the oath of office. Merkel backed his conservative rival, incumbent Nicolas Sarkozy, in the French election campaign.
Commenting on the renewed jitters in financial markets over a continued political deadlock in Greece, Schaeuble said: "We are in a very volatile situation in the Euro zone."
But he reiterated the German stance that tough fiscal reforms provide the only way forward for heavily indebted EU countries, including Greece.