HSBC reports sale of affiliates in four countries to GNB Colombia for US 400m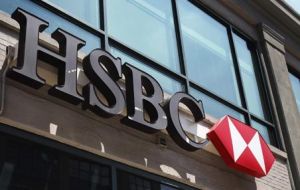 HSBC reported the sale of its affiliates in Uruguay, Colombia, Peru and Paraguay to the Colombian group Gilinski, an operation involving 400 million dollars, of which 80 million for the Montevideo assets.
"The whole operation for HSBC affiliates in the four countries totals 400 million dollars cash, subject to a later adjustment based on the net value of assets in each of the sales" said the bank in a release distributed in Montevideo.
The following step is for an audit of all HSBC affiliates in the four countries by the Gillinski group which already owns in Colombia GNB Sudameris, the automatic cashiers Servibanca; commissions Servivalores and financial services Servitotal. Besides in the US the group has the Eagle National Bank, the second oldest in Miami.
The group in 2008 tried to take over the Uruguayan Banco Comercial but could not agree on the final price. Allegedly the Colombian group plans to cover all banking operations in the affiliates: corporate and consumers, so "we imagine they will expand the infrastructure and incorporate technology", said Gustavo Perez, head of Uruguay's bank tellers union.
Before the operation is completed GNB Sudameris must obtain the approval from the regulatory agencies in the four countries. The group said it expects the operations in Colombia and Peru will be closed in the last quarter of 2012, and in Uruguay and Paraguay in the first quarter of 2013.
According to the latest balance sheet, HSBC Uruguay made a million dollars in the first quarter of this year with pending loans of 576 million dollars (9.5% of private banks) with deposits of 965 million dollars. It currently has 20.427 deposit accounts, 11 branches and a staff of 250. HSBC Uruguay assets at the end of March stood at 62.3 million dollars. It's the sixth private bank by size in the country.
Another bank on sale is Lloyds, which has been in Uruguay since 1863. Apparently there are ongoing talks with the local affiliate of the Swiss Banque Heritage.