Huge garbage patch in north Pacific is creating changes in the ocean food web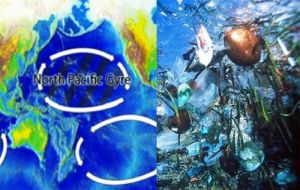 In a part of the ocean known as the North Pacific Gyre, human-produced plastic has increased 100-fold over the past 40 years, according to a new study. This is the infamous Great Pacific Garbage Patch, which is not an actual floating island of garbage, but which is filled with floating bits of plastic, often fingernail-sized, mostly from the US west coast and from the east coast of Asia.
The new study led by graduate student researcher Miriam Goldstein at Scripps Institution of Oceanography at UC San Diego indicates that the plastic in this part of the ocean has provided new habitats for some marine creatures, which in turn can be expected to create a subtle shift in the ocean food web. The study was published May 9, 2012 in an online issue of the journal Biology Letter.
Which sea creatures are being affected? One is the marine insect Halobates sericeus, which are sea skaters or water striders. They are related to the water skaters you might have seen on the surfaces of fresh-water ponds.
Marine sea skaters live on the ocean surface. They lay their eggs on floating objects such as seashells, seabird feathers, tar lumps and pumice … and now plastic garbage, according to Goldstein's study.
The result is that the North Pacific Gyre now has sea skater eggs in greater density than before. It's the first increase known among marine invertebrates (animal without backbones) in the open ocean. More sea skaters might have consequences for animals across the marine food web, such as crabs that prey on sea skaters and their eggs, and such as the animals that eat the crabs, and so on.
Plastic only became widespread in late '40s and early '50s, but now everyone uses it and over a 40-year range we've seen a dramatic increase in ocean plastic. Historically we have not been very good at stopping plastic from getting into the ocean so hopefully in the future we can do better.