Spain's 'indignados' promise a great turnout on first anniversary, May 15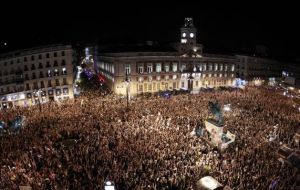 Protests of "indignados" continue in Madrid and Barcelona in spite of arrests and members of the 15-M movement have promised they will not abandon streets and plazas until after the anniversary of the first protest in Puerta del Sol a year ago on Tuesday.
On Monday tens of demonstrators, including some members of the platform 'Afectados por las hipotecas' (victims of mortgages), organised a protest in front of the Bankia's central headquarters, in order to speak out against the "abuse by banks".
Appealing to social networks, the platform proposed citizens to either go to Bankia's windows in Madrid or close their accounts or, symbolically, to claim the interests due following the "Euribor swindle".
Demonstrators recall that "Bankia carries out 80% of confiscations of houses under mortgage, and, at the same time, it will receive 7 billion Euros from the government in order to re-finance its debt".
On Sunday the second day of protests of "indignados" ended exactly like the first one, with the police evacuating Madrid's main plaza Puerta del Sol; approximately one hundred youths were still in the square at 05:30 in the morning.
There were no accidents, but two youths were kept under custody for resistance to police, adding to 18 people arrested during the week-end.
The protest by "indignados" continued in Catalonia, where approximately one hundred youth spent the second night in some tents prepared in Plaza de Catalunya, in Barcelona.
Protesters once again tried to fill Puerta del Sol calling for the release of around 18 of their number, detained by police in the early hours.
Spain's government has vowed not to allow a repeat of the scenes last year when the protesters occupied the square for weeks. However the indignados have called for more demonstrations on Monday and Tuesday, anniversary day, protesting the government's handling of the economy which has fallen back into recession.
The Indignados caught global attention last May and inspired other popular movements against austerity policies that are aimed at cutting debt and reassuring investors but hit the living standards of all except wealthy elites, critics say.
But since then, Spanish unemployment has soared to 24%, (and 45% among youth), the economy has relapsed into recession, a bank has been nationalized and harsh spending cuts have hit public health and education.
Prime Minister Mariano Rajoy of the conservative People's Party defended his government's austerity measures at a political rally on Sunday, saying they were necessary to lift the country out of its economic malaise.
"We'll get out of this (crisis) if the government doesn't tire of making reforms, and the government is not going to tire," Rajoy said.
Movements like the Indignados have received support from all sections of Spanish society - from youth to the elderly, and while critics say they have failed to make an impact politically protesters are keen to revive their visibility.
"On one hand the activists are taking a critical stance on the worsening crisis ... and on the other hand they're showing that they're still there; they haven't disappeared," said Jesus Sanz, sociologist at the Autonomous University of Barcelona.