Hollande names parliamentary leader and Germany expert as Prime Minister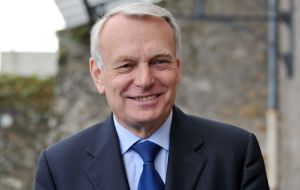 French President Francois Hollande named veteran Socialist parliamentary leader and Germany-expert Jean-Marc Ayrault as prime minister on Tuesday, an appointment which may help smooth negotiations with Berlin on tempering austerity in Europe.
The appointment of Ayrault, a former German teacher and long-time Hollande ally, was announced by the new president's chief of staff.
The Socialist Hollande, who was sworn into office earlier on Tuesday, was already on his way to the airport for his first meeting with German Chancellor Angela Merkel in Berlin.
Ayrault has led the Socialists' parliamentary group since 1997, earning a reputation for pragmatism which may serve the French government well as it seeks to reshape the Paris-Berlin axis.
The 62-year-old is now charged with forming a cabinet which will be unveiled in full on Wednesday.