Colombia's oil company overtakes Petrobras as Latam's largest company in market value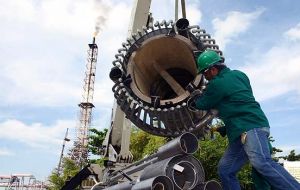 Colombia's national oil and gas corporation Ecopetrol has become Latin America's biggest company by market value, overtaking Brazil's mighty Petrobras.
Ecopetrol's market capitalization, or the value of its outstanding shares, has jumped 37 billion to 127 billion dollars this year through the close of trading Tuesday, according to a study released Wednesday by Sao Paulo-based consulting group Economatica.
Petrobras, which Economatica said had held the top spot for at least a decade, has lost 32 billion for a market value of 124 billion dollars. Those levels were last seen in March 2009 and are well off the company's May 2008 peak at 310 billion dollars, the study showed.
Divergent foreign-exchange rates in the two countries explain a large part of the change, but government policies that directly affect the two oil companies have also tilted investor sentiment.
While Petrobras shares have languished because of government interference and an inability to pass along higher oil prices to consumers, investors have rewarded Ecopetrol for Colombia's hands-off approach.
"There is very limited political interference [in Colombia]," Nathan Piper, an oil analyst at RBC Capital Markets, said in an email. Colombia, for example, doesn't impose the same demands for locally produced goods and services in oil exploration and production as Brazil, which boosts costs and could slow down development, Piper noted.
Economatica singled out the Brazilian Real currency's recent slide against the US dollar as the key factor in Petrobras steep decline. The Real has weakened significantly since the end of February, when the currency traded at around 1.70 to the greenback. Government measures aimed at curtailing speculative foreign investment inflows have combined with interest-rate cuts by the Brazilian Central Bank to push the Real to the 2.00-to-the-dollar mark in recent days.
Colombia's peso, meanwhile, has been one of the world's best-performing currencies against the greenback in 2012, gaining about 8% versus the dollar.
Investors have also punished Petrobras shares, which are down nearly 9% in 2012 and 17% over the past year, because of some operational troubles that have resulted in sluggish production growth.
Petrobras earnings have also been undermined by a domestic fuels pricing policy that does not pass along higher international oil prices to consumers at the pump. The problem was exacerbated in recent quarters by the company's refining shortfall and robust domestic demand, which have forced Petrobras to increase imports of expensive gasoline and diesel fuel that the company then sells at a loss in the domestic market.
Ecopetrol, meanwhile, has become a darling of investors since the company was partially privatized in 2007. Ecopetrol's shares have more than quadrupled since the initial public offering, reaching a record high of COP 5,850 on May 2. Ecopetrol pumped a record a record 743.000 barrels a day in the first quarter and is targeting 1 million barrels a day by 2015, although analysts say that Ecopetrol will need at least one, and possible more, big discoveries to reach its goal.
Ecopetrol, however, could be overvalued, given that the company's proven reserves of about 1.8 billion barrels of oil equivalent, or BOE, pales in comparison to Petrobras's nearly 15 billion BOE.
Petrobras, which is developing some of the largest oil discoveries made in the past 30 years, currently trades at a 50% discount to net asset value, which the investment bank analyst called "excessive."