Falklands recover 370 hectares of Stanley Common made minefields in 1982 by Argentine forces
Thursday, May 17th 2012 - 11:29 UTC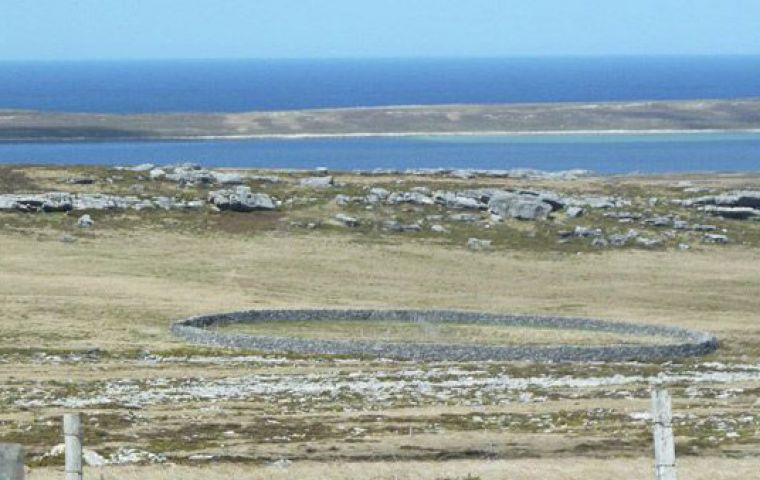 Thirty years after the end of the Falkland Islands conflict, 370 hectares of Stanley Common south of Sapper Hill recently cleared by BACTEC (mine action and bomb disposal specialists), have been opened to the public, reports the Penguin News.
During the conflict the Argentine forces planted 20,000 anti-personnel mines and 5,000 anti-tank mines spread over 13 sq km in 117 locations in highly variable terrain.
Particularly strategic for the occupying Argentine forces were areas surrounding Stanley in an attempt to stop the British from recovering the town. Only recently has the onerous task of clearing some of the fields started as part of a UK effort.
However in spite of the major clearance in areas close to Stanley, Environmental Officer Nick Rendell said it should be noted that five smaller minefields remain and are clearly marked.
The accessible area contains the Stone Corral, an exquisite piece of early Falklands' history as well as Eagle Rock, a notable landscape feature.
It also includes the two largest ponds in the Stanley area, Mile Pond and Round Pond. The latter attracts interesting waterfowl and rare vagrant bird species have been reported there in the past.
A three kilometre stretch of coastline is now accessible from Goose Green via Lake Point to the entrance to Mullet Creek, where a further two kilometres of shoreline offers additional fishing opportunities.
Mr Rendell explained that the best point to gain access to the Stone Corral is via the old Pump House track, and then by foot or vehicle through an access gate into the released area.
"As the corral is an important historic feature please refrain from climbing on or removing rocks from its walls," he added.
The best vehicle access point to reach Mile Pond, Round Pond and the south coast is through the gate in the north east corner of the released area by the Sapper Hill water tanks although the area around the gate is quite damp and may become difficult to pass as it gets wetter over winter.
A temporary fence has been put in place between Mile Pond and the minefield to the east to restrict vehicles from travelling further south.
This area is also very wet and has been fenced to prevent damage to the ground. For access to the south coast the public should leave their vehicles at the gate, from which it is a 500 metre walk to Lake Point Beach and Round Pond. A key for the gate is available from the Environmental Planning Department for people with mobility difficulties. It is intended to remove the fence and gate when access to the coastal strip has been improved following further land releases.
A map of the area showing vehicle access points is available from the Environmental Planning Department website; www.epd.gov.fk