Argentine former central bank chief anticipates "de facto devaluation"
Friday, May 18th 2012 - 09:41 UTC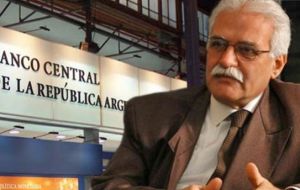 A former Argentine central bank president warned that if the economy follows on the current course, a "de facto devaluation" is round the corner because of the growing gap between the official and parallel exchange rates for the US dollar.
"The situation is unsustainable in the long term: 4.50 Pesos and 5.50 Pesos for the official and the parallel dollar will end having a great impact on the level of prices", said Aldo Pignanelli
"A 20% difference between the two exchanges is inconsistent in the long term and generates distortion and uncertainty, with prices taking their highest value so as to cover themselves from inflation and the overall increase", added Pignanelli.
The economist blames the government of President Cristina Fernandez for the current situation which is the result of very serious "macroeconomic maladjustments" which lead to a chaotic policy which then triggers inflation and pinches into the pockets of consumers.
"Argentina is the country with the highest inflation in the region and this is not to brush aside. In this scenario still favourable for Latin America, several countries such as Brazil and Uruguay, Chile have devalued their currencies because they have their accounts clear and balanced, which had no major impact in prices, something which here in current circumstances can't be applied", argued the economist.
Pignanelli finally said that if the Argentine government does not make adjustments and presents a clear plan regarding the "rules of the game" as far as the money exchange market is concerned, the country will keep advancing but "if we remain in the current course, we're in for big trouble"
The economist said that the US dollar by the end of the year will be trading at 5 pesos in the official market and 6 Pesos in the parallel with an annual inflation of 30%, and the economy expanding 3%. And underlined that if budget revenue continues to be below outlays, "forget it; the storm is coming, and nothing can be solved".