Cristina Fernandez insisted in Angola on the South Atlantic as "an area of peace"
Friday, May 18th 2012 - 22:35 UTC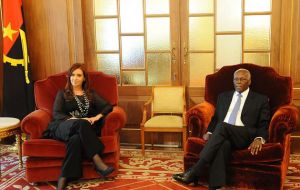 President Cristina Fernández highlighted the importance of keeping the South Atlantic region as "an area of peace, free of militarization," during her speech before the National Assembly of Angola on Friday.
The leader also thanked the African country for its "permanent support for Argentina's sovereign claim" regarding the Malvinas Islands dispute.
"We form part of the South Atlantic and we need to maintain it as an area of peace, and free of militarization" said Cristina Fernández.
Earlier on Friday the Argentine president attended a bilateral meeting with the her peer of Angola, José Eduardo Dos Santos, before speaking before the National Assembly at the Presidential Palace in Luanda.
During the meeting with the Angolan president, President Fernández de Kirchner highlighted the "magnificent opportunity" Argentina and Angola had in coming together on future business transactions, particularly in the face of the global financial crisis.
The last appointment on her schedule will be a visit to the trade fair where 400 Argentine businessmen will exhibit their products, accompanied by the Agricultural Ministry and the ANMAT and INCAA, with the aim of attracting investments and generating sales.