EU ambassador in Argentina suggests "negotiated agreement" for the Repsol/YPF dispute
Friday, May 18th 2012 - 22:54 UTC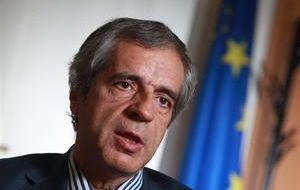 The European Ambassador to Argentina, Spanish native Alfonso Díez Torres, stressed on Friday that the solution for the YPF seizure conflict would be "a negotiated agreement" between Argentina and Repsol.

"Now, we are kicking off the negotiations between the oil company and the Argentine authorities. We consider a negotiated agreement to be the best option and solution for the standoff," Torres stated.

During an interview for a local newspaper, Torres also indicated that, in the case of discrepancies over the settlement agreement, "domestic and international arbitration organizations could be employed."

Torres stressed furthermore that the European Union "respected" Argentina's decision to expropriate stakes of partially Spanish owned YPF and assured the block "never questioned the nation's right of expropriation in accordance to Argentina's constitution and international agreements."

And added: "We have only manifested our worries over the proceedings, since it could have hurt the rights of the affected company."

Repsol estimates the value of the seized stake at 10.5 billion dollars according to the company's CEO Antonio Brufau; however Argentina understands that the sum if far less given breach of contract clauses and possible environmental damages.