NATO aggress to leave Afghanistan end of 2014: what happens later is anybody's guess
Tuesday, May 22nd 2012 - 18:55 UTC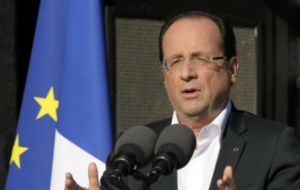 NATO leaders sealed a landmark agreement to hand control of Afghanistan over to its own security forces by the middle of next year, putting the Western alliance on an "irreversible" path out of an unpopular, decade-long war.
A NATO summit in Chicago formally committed to a US-backed strategy that calls for a gradual exit of foreign combat troops by the end of 2014 but left major questions unanswered about how to prevent a slide into chaos and a Taliban resurgence after the allies are gone.
The two-day meeting of the 28-nation alliance marked a milestone in a war sparked by the September 11 attacks that has spanned three US presidential terms and even outlasted al Qaeda leader Osama bin Laden.
President Barack Obama and NATO partners sought to show their war-weary voters the end is in sight in Afghanistan - a conflict that has strained Western budgets as well as patience -while at the same time trying to reassure Afghans that they will not be abandoned.
Alliance leaders acquiesced to new French President Francois Hollande's insistence on sticking to his campaign pledge to withdraw French troops by December 31, two years ahead of NATO's timetable. While there was no sign this would send other allies rushing for the exits, leaders could face pressures at home.
"Our nations and the world have a vital interest in the success of this mission," Obama told a summit session. "I am confident ... that we can advance that goal today and responsibly bring this war to an end."
The summit's final communiqué ratified plans for the NATO-led army to hand over command of all combat missions to Afghan forces by the middle of 2013 and for the withdrawal of most of the 130,000 foreign troops by the end of 2014.
The statement deemed it an "irreversible" transition to full security responsibility for fledgling Afghan troops, and said NATO's mission in 2014 would shift to a training and advisory role. "This will not be a combat mission," it said.
Doubts remain, however, whether Afghan forces will have the capability to stand up against a still-potent Taliban insurgency that Western forces have failed to defeat in nearly 11 years of fighting.
While Obama insisted Afghanistan should never again be used to plot attacks on other nations, a senior British official said: "It is unrealistic to assume that Afghanistan is going to be completely secure and there is no possibility of a terrorist threat re-emerging".