Following the Falklands' ad incident Britain/Argentina at the opening hockey match in London
Wednesday, May 23rd 2012 - 18:50 UTC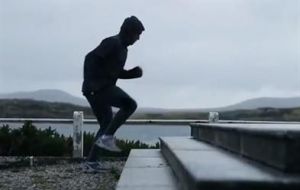 Britain's men's hockey team will play their opening match of the London Olympics against Argentina at 1900 BST on 30 July, one of whose players caused a controversy this month with a video filmed in the disputed Falklands/Malvinas islands.
Argentine player Fernando Zylberberg caused a furore in the Falklands and Britain with a state-supported television advertisement that showed him training in the Falklands, taking advantage of a marathon competition in the Islands.
Not only was the ad filmed in secrecy, contrary to Falklands recommendations to visiting Argentines to restrain from any flag-showing or provocative act for the locals, but also had him filmed in a disrespectful attitude to at least one of the Falklands main monuments to the memory of British sailors killed during the First Word War.
The video ended with the voiceover: "To compete on English soil, we are training on Argentine soil". Zylberberg was dropped from Argentina's final Olympic warm-up event in Malaysia but was in the side that qualified for London and his absence does not mean he is definitely discarded for the 2012 Games.
It must be said that the athletes' representative in the Argentine Olympic Committee Juan Curuchet complained that mixing sports with politics was not in line with the Olympic spirit and revealed that Zylberberg had been very much affected and depressed by the repercussions of the ad which had him as the main actor.
A total of 76 matches will be played over 14 days in the hockey competition at the Riverbank Arena on the Olympic Park, which hosted the Visa International Invitational Hockey Tournament earlier this month as part of the London Prepares series.
London 2012 Director of Sport, Debbie Jevans said: "The Riverbank Arena is set to stage exciting world-class sport during the Olympic Games. The Visa International Invitational Tournament helped us test the venue and we will continue to work with the International Hockey Federation (FIH) to fine-tune our plans."
Leandro Negre, President of the FIH, said: "As the London Games approach, the excitement builds to welcome the world's top hockey players."
Based on world rankings, the 12 teams in both tournaments are divided into two pools of six and each team plays every other in their pool. The top two teams in each pool qualify for the semi-finals, with the winners then going head-to-head for the Gold medal. The other teams in the two groups play each other to determine final placing.