Rousseff announces veto of several Forest Code controversial amendments
Friday, May 25th 2012 - 22:54 UTC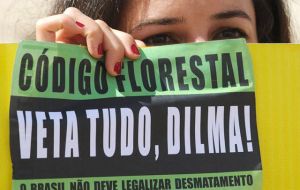 Brazilian President Dilma Rousseff announced Friday that she is vetoing some of the controversial amendments to the country's Forest Code that would have substantially weakened the country's forest protection and climate mitigation actions.
The amendments, pushed through the Brazilian congress by agricultural interests, include granting amnesty to landowners who illegally deforested before 2008 and reducing the mandatory forest cover for landowners in the Amazon from 80% to only 50%.
In addition to threatening the Amazon, deforestation contributes to climate change. Harmful climate change emissions emitted through deforestation represent about 15% of the world's global warming pollution—more than the total emissions from every car, truck, plane, ship and train on Earth.
Doug Boucher, director of climate research and analysis, and director of the Tropical Forest and Climate Initiative at the Union of Concerned Scientists applauded President Rousseff for "vetoing the most dangerous parts of this law and for her continued commitment to ending Brazilian deforestation by 2020".
"The amendment that would have granted amnesty for illegal deforestation prior to 2008 would have been a dangerous precedent. Landowners would have been free to continue clearing forests under the assumption that another amnesty period would be offered. Had President Rousseff not vetoed this section, it would have undermined the entire Forest Code.
"Brazil has already reduced deforestation by 68% since 2005. Through Rousseff's vetoes, Brazil can continue to build on its monumental progress to protect the Amazon and secure its role as the global leader in reducing carbon emissions", concludes the Concerned Scientists statement.