Argentina and Brazil celebrate naming of Iguazú Falls as one of New7Wonders
Monday, May 28th 2012 - 01:01 UTC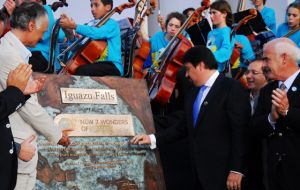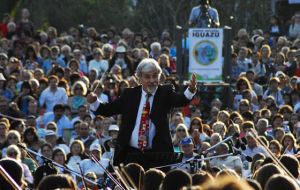 A huge orchestra comprising 700 children from seven Latin American countries, plus China and South Korea, played music from the soundtrack of "The Mission" as the Iguazú Falls shared by Argentina and Brazil were officially inaugurated one of the New7Wonders of Nature.
Conducted by double-Oscar winner Gustavo Santaolalla, the youth orchestra performance on Saturday was one of the highlights of the ceremonies in Puerto Iguazú, which is located in the Argentine province of Misiones.
The ceremony naming Iguazu Falls as one of the world's new seven wonders of nature also included the unveiling of a plaque by Bernard Weber founder-president of New7Wonders on the Argentine side as he had done the day before in Brazil.
Among the dignitaries attending the inauguration were, Bernard Weber; Enrique Meyer, the Argentine Minister of Tourism; Maurice Closs, Governor of Misiones Province and Marcelo Sánchez, mayor of Puerto Iguazú.
Tourism Minister Meyer predicted that the listing of Iguazu Falls as one of the New7Wonders of Nature would rank it "as one of the major tourist attractions of South America," while Governor Closs said that the inauguration confirms the falls as "the main tourist destination inside Argentina."
Speaking at a press conference in Puerto Iguazú, Bernard Weber said that New7Wonders is studying the feasibility of constructing museums of the New7Wonders of Nature and related theme parks around the world.
The official inauguration celebrations actually took off on Friday on the Brazilian side, in Foz do Iguaçu, Parana State accompanied by music and fireworks plus the unveiling of a specially cast commemorative bronze plaque honoring the cross-border achievement
"The election of Iguazu Falls as one of the New7Wonders of Nature is something that everyone here can take pride in. It is now part of Global Memory" said Bernard Weber, Admiring the plaque Paulo Mac Donald Ghisi, mayor of Foz do Iguaçu, declared: "It's the World Cup of Nature!"
On Sunday the first New7Wonders World Congress opened in Puerto Iguazú (Argentina) focusing on how representatives of the seven elected sites can work to promote their tourism and development plans jointly.
The results are the product of a consultation process which ran from December 2007 to July 2009. Argentina and Brazil shared the candidacy of the site in the global voting campaign that ended on 11 November last year.