Brazil has a plan to bolster subsidized credit to increase corporate investment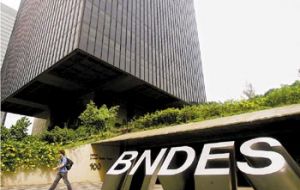 Brazil has a plan to bolster subsidized credit aimed at increasing corporate investment with 45 billion Real (approx 22.5 billion dollars) from the country's development bank, BNDES.
The emphasis of the plan will be implemented in the second half of the year but in June the funds are expected to be released. Earlier in the month BNDES said it was ready to support with no-limit soft loans the country's three main corporations, Petrobras, Vale Doce and Electrobras.
Anaemic investment has been a huge drag for the Brazilian economy, which risks falling into a new period of mediocre growth as consumers are increasingly indebted and companies struggle with the infamous 'Brazil cost': a mix of high taxes, massive bureaucracy and infrastructure bottlenecks.
Investment equals about 19% of its GDP per year, that's way below China's 45% and 35% in India.
Cheaper credit to companies will come along more spending by ministries and state-run giant corporations with the idea that other private companies hike investment to comply with the demand from the public sector.
Only between the BNDES and the government's flagship infrastructure program, known as PAC, there are nearly 200 billion Real (100bn dollars) to spend this year alone. State-run companies have 107 billion Real in their budgets this year.
BNDES offers loans with a 6% interest rate, much lower than the rest of the market and almost the official inflation rate. The central bank's benchmark Selic rate stands at 9%.
During the worst the 2008-2009 global financial meltdown the BNDES was instrumental to provide billions of dollars in capital to local companies when international credit dried up.