Falklands' lawmaker to address decolonization regional seminar in Ecuador
Thursday, May 31st 2012 - 00:42 UTC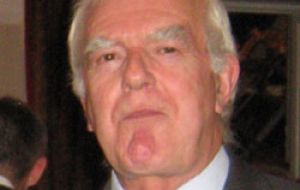 Falkland Islands Member of the elected Legislative Assembly Roger Edwards is scheduled to address the UN Special Committee on Decolonization regional seminar which opened Wednesday May 30 in Quito, capital of Ecuador.
The UN Special Committee on Decolonization, or C24, is holding its Pacific Regional Seminar which is intended to review progress in the UN decolonization process and will report to the full C24 in June when the annual meeting in New York.
It must be mentioned that the C24 declined an offer from the Legislative Assembly to host the seminar in the Falkland Islands this year, as well as extending a personal invitation to the current chairman of C24, Ecuadorean ambassador Diego Morejon- Pazmino, who also declined.
The Ecuadorean ambassador will chair the Quito meeting with Syria's Bashar Jaafari acting as rapporteur.
The seminar participants include a specially constituted delegation of the Special Committee, comprising the Bureau and members of regional groups, other United Nations Member States, including administering Powers, as well as representatives of the Non-Self-Governing Territories, civil society and non-governmental organizations and experts.
The members of the Special Committee are Antigua and Barbuda, Bolivia, Chile, China, Republic of the Congo, Côte d'Ivoire, Cuba, Dominica, Ecuador, Ethiopia, Fiji, Grenada, India, Indonesia, Iran, Iraq, Mali, Nicaragua, Papua New Guinea, Russian Federation, Saint Kitts and Nevis, Saint Lucia, Saint Vincent and the Grenadines, Sierra Leone, Syria, Timor-Leste, Tunisia, United Republic of Tanzania and Venezuela.
The Non-Self-Governing Territories are American Samoa, Anguilla, Bermuda, British Virgin Islands, Cayman Islands, Falklands/Malvinas Islands, Gibraltar, Guam, Montserrat, New Caledonia, Pitcairn, Saint Helena, Tokelau, Turks and Caicos Islands, United States Virgin Islands and Western Sahara.
The Third International Decade for the Eradication of Colonialism was established by the UN General Assembly in a resolution adopted in December 2010.