Brazil's former Central bank president named head of Lazard Americas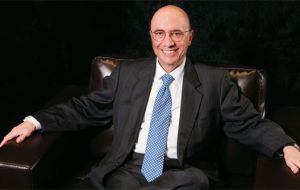 Lazard Ltd. announced this week the appointment of Henrique Meirelles as Chairman, Lazard Americas, effective immediately. Meirelles was former President of the Central Bank of Brazil.
As president of the Central Bank from 2003 through 2010, Meirelles helped lead Brazil through a period of unprecedented growth and prosperity, the company said.
Prior to that, Meirelles was President of FleetBoston's Corporate and Global Bank, and President of its predecessor BankBoston, which he joined in 1974. He is Chairman of the advisory board of J&F Participacoes SA, the holding company of JBS SA, and a Board Member of Azul Linhas Aereas Brasileiras.
Lazard also announced it has integrated its Brazilian operations, which were previously run as a joint venture known as Signatura Lazard.
Marcelo Lyrio and Jean Pierre Zarouk, founders of Signatura, will retain their titles and responsibilities as Managing Directors and co-heads of Lazard's Brazilian Investment Banking operations, based in Sao Paulo.
The investment bank did not disclose what it paid for the assets of the Brazilian venture.