Jaguar-Land Rover follows BMW puts plans to build a plant in Brazil on hold
Friday, June 1st 2012 - 06:57 UTC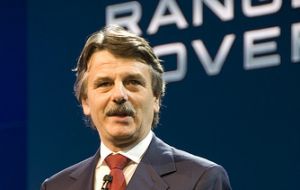 Jaguar Land Rover, the luxury car unit of India's Tata Motors has followed Germany's BMW AG in suspending plans to build a new plant in Brazil as tax changes and slowing growth have given premium auto makers cold feet about investing in a potentially lucrative market.
A sharp rise in import tariffs and other changes to auto-sector regulations have aggravated uncertainty about the country's industrial policy amid a clouding economic outlook.
"There is no clarity in terms of policy in Brazil right now," Ralf Speth, Jaguar Land Rover chief executive, said in a recent interview.
Brazil increased a tax on imported cars by 30 percentage points late last year to cool imports. The government has since said it will toughen up the rules for auto makers wanting to qualify as domestic producers from next year, requiring them to spend more on local research and development and assemble at least two-thirds of their output locally, among other conditions, as well as meeting the existing requirements for procuring parts locally.
Auto makers building or planning to build new factories are particularly unhappy about the local-content rules before the new plants reach full production, prompting the government to start company-by-company negotiations.
Still, the decision by JLR underlines how regulatory uncertainty is taking the edge off the emerging-market potential for luxury auto makers. Car sales hit a record 3.4 million units in Brazil in 2011 making it a bigger market than Germany.
Like other manufacturers, Tata is counting on customers in countries such as Brazil, China and India to drive growth in sales of its Jaguar, Range Rover, and Land Rover brands amid sluggish demand in more saturated markets such as Western Europe where economic growth is faltering.
BMW Chief Executive Norbert Reithofer said earlier this month that the German auto maker is reassessing its plans to build a new plant in Brazil because of changing tax regime though some sort of investment was still likely to go ahead.
As well as changes in Brazil's tax regime, a decline in industrial activity due to weak international demand, combined with a loss in value of the Brazilian real against major currencies, has hurt Brazil's economy and demand for imports like luxury cars.
As the economy cools surging levels of car loan defaults in the country have led banks to squeeze lending to customers. About 70% of all cars sold in Brazil are bought with loans. The automotive industry comprises about 20% of the country's industrial activity. Brazil's car sales fell 10% in April from the same month a year earlier.
JLR's Speth said that despite current uncertainties Brazil remains one of the "key options" for the company to spread its manufacturing footprint. "We have our plans ready and we know exactly where we want to set up [the plant]," Speth said.
BMW's Reithofer said that for his company, the world's biggest luxury auto maker by sales, decisions on new plants have to be economically viable in the long run and mutually beneficial for the country and the company. He didn't say when BMW would make a final decision on investing in Brazil though he described talks with local authorities a "constructive."