Repsol regains 6% warranty-stake in YPF and now owns 12.43% of the company
Friday, June 1st 2012 - 01:33 UTC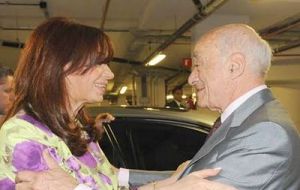 Spain energy Group Repsol regained rights on a 6% warranty-stake in the Argentine oil and gas giant YPF after the Petersen Group, which used to own 25.46% of the company, lost it as the result of not having met payments for the loan through which they initially enter the business without paying a single cent.
Thus, Repsol, which was left with a 6.43% stake in YPF after the Argentine government's decision of nationalizing 51% of the 57.43% the multinational company Repsol used to own since its acquisition back in 1999, now owns 12.43% of the company.
Repsol's Chairman, Antonio Brufau, informed during a shareholders general meeting that the Petersen Group had failed to meet their dues in order to clinch the 25.46% package they were offered with, thus activating a warrant clause that allows Repsol to regain a 6% stake in case of breach of contract.
The Petersen group belongs to the Eskenzi family, very close to Nestor and Cristina Kirchner and was invited by the powerful couple to buy into YPF.
In 2008 they received a loan of 1.018 billion dollars from a pool of banks, Credit Suisse, Goldaman Sachs, BNP Paris and Itaú to buy a 14.9% stake of YPF financed by Repsol. In 2011 the Petersen group bought another 10% stake with a 670 million dollars loan from a consortia made up of Itaú, Standard Bank, Crédit Suisse, Santander and Citi banks.
Until last year the Eskenazi group was using YPF dividends to pay back the loans. In fact the agreement signed between Repsol and the Eskenazi in 2008 stated that every year the oil and gas company would distribute 90% of profits among shareholders, a condition imposed by the Argentine government of the Kirchner couple to ensure debt payments.
Repsol CEO Brufau insisted on the company's interest of negotiating compensation with the government of Cristina Fernández after the company's nationalization. Earlier this week Brufau said before shareholders that Repsol will also seek punitive damages from Argentina for the seizure of YPF.
However, fresh demands would raise the stakes in a potentially long legal battle because Repsol has already sued Argentina for 10 billion in compensation over the YPF seizure in a case that could drag on for years.
Repsol has also taken steps to file a complaint at the World Bank's International Center for Settlement of Investment Disputes (ICSID).
Repsol unveiled a four-year strategic plan earlier this week, pledging heavy investment in its exploration business in a bid to recover from the blow of the loss of YPF.