Spain calls on US and IMF for political support in helping the banking system
Friday, June 1st 2012 - 02:20 UTC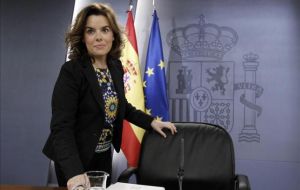 The United States and Spain discussed the possibility that direct loans from Europe's emergency fund could be a solution for ailing European banks, Spanish Deputy Prime Minister Soraya Saenz de Santamaria said Thursday.
With Spain's own frail banks weighing heavily on Madrid's financial resources, Saenz de Santamaria said she discussed other ways to support them in talks with US Treasury Secretary Timothy Geithner during a one-day trip to Washington, where she also met with the IMF chief Christine Lagarde.
"We were talking about the possibility that the banks, not only Spain's but also in other countries that need it, could access funds directly without intervention from the governments and without conditions," she said after meeting Geithner.
"The treasury secretary indicated that we are working in the same direction and that we must find a solution for the banks."
Pressure has been mounting to allow Spain's banks to tap the European Stability Mechanism, the region's financial firewall, directly for capital support to avoid forcing the entire country into a financial meltdown.
The European Commission said on Wednesday that the ESM should be considered for helping the Euro zone crisis-hit banks directly, instead of routing its funds through governments that are already saddled with huge debt loads.
"To sever the link between banks and the sovereigns, direct recapitalisation by the ESM might be envisaged," the EU executive said.
But Germany and other EU conservatives have insisted that governments be responsible for any money borrowed from the ESM and its antecedent, the European Financial Stability Facility which is being phased out.
Saenz de Santamaria also met with Lagarde at IMF headquarters but both denied any talks on a bailout program for Spain.
"There is no such plan. We have not received any request to that effect and we are not doing any work in relation to any financial support," Lagarde said after the two met on Thursday and following on reports from the Financial Times to that effect.
"The IMF is not drawing up plans that involve financial assistance for Spain. Nor has Spain requested financial support from the IMF," spokesman Gerry Rice told journalists. The meeting between the Lagarde and Saenz de Santamaria was "to discuss recent economic developments in Spain and the eurozone," he added.
Speculation has mounted that Spain will seek a Greece-style rescue loan from the IMF and the European Union (EU) as the country endures economic recession and its banks crumble under the weight of massive bad real-estate loans.
Earlier Thursday, the EU pressed Madrid to urgently clear up doubts over its mammoth rescue of stricken lender Bankia in a bid to calm markets.
On Thursday also Fitch Ratings downgraded eight regions of Spain warning that a failure from the government to adopt new measures would result in further ratings cuts.