Argentine construction slides and could worsen because of US dollar restrictions
Saturday, June 2nd 2012 - 03:50 UTC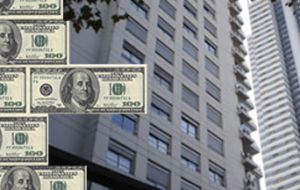 Argentina's construction activity experienced a notable slowdown in April, the latest indicator pointing to a cooling of economic growth. Looking ahead prospects are not encouraging given the strict restrictions on US dollars, which is the main currency for real estate operations in Argentina.
Construction activity slid 5.9% on the month and was down 3.8% on the year, the national statistics agency Indec reported Thursday. That compares with gains of 6.8% on-month and 5.2% on-year reported in March.
Construction surged last year as the country saw an 8.9% expansion of GDP. Residents also poured cash into real estate amid rampant inflation, estimated by economists at an annual rate of well over 20%.
Argentines have traditionally put their money into land and durable goods as a hedge against inflation.
The central bank's latest forecast puts economic growth at 6% this year, though many economists are expecting growth to be flat or even a contraction.
Construction activity could suffer a further downfall because of the very strict control on the purchase of US dollars by the country's Tax Office and Central bank, when most real estate transactions in Argentina are done in US dollars given the long established suspicion by common citizens of (all colour) governments' currency value manipulation.
In related news real estate agent José Azpiroz Costa advised Argentine savers to choose to invest their money in properties as restrictions to the purchase to dollars increase, he said in a television debate.
Azpiroz Costa also revealed that the increasingly complicated task of purchasing dollars is reducing real estate operations, a key aspect of the economy"