Merkel signals to the opposition she is ready to accept measures to boost growth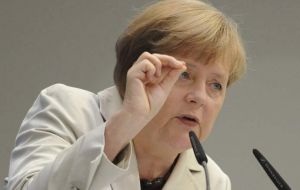 Chancellor Angela Merkel praised higher German wage deals and signalled flexibility on a financial transaction tax, in a sign she is open to new measures to boost growth in Europe.
The comments, at a conference of her Christian Democrats (CDU) in Berlin, show that she is ready to heed calls for Germany to do more for growth and is a nod to the SPD, which is threatening to delay approval of Merkel's new pact on budget discipline, she said for the first time she was open to introducing a financial transaction tax across those Euro states that support one.
"We're taking a look to see if we can possibly get something done with a few countries that have the same view," Merkel said, although she added that "unfortunately" it was not possible to get a broader worldwide agreement or even one for the European Union or even the Euro zone.
Merkel went out of her way to praise the relatively high wage deals that German workers are winning this year, pay raises that economists believe will boost domestic consumption in Europe's largest economy.
German political leaders tend to stay out of wage talks because they do not want to take sides. But this year government leaders had openly called for stronger wage increases.
"A good budget policy and policies to boost demand have to be combined," she said, adding that domestic consumption in Germany should not be throttled at all.
Volkswagen, Europe's largest carmaker, said it will give workers at its German factors a 4.3% pay increase for a 13-month period after the IG Metall union secured a 4.3% raise for its 3.6 million workers.
It was the highest increase for the engineering sector since 1992.