Brazil/Argentina Mercosur differences can be overcome with 'greater production integration'
Tuesday, June 5th 2012 - 23:59 UTC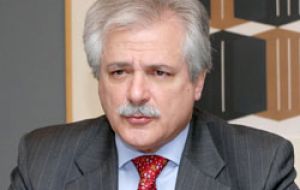 Trade differences between Mercosur leading partners Brazil and Argentina will be overcome with negotiations and promoting productive integration, coincided business people, diplomats and academics from both countries at a seminar in Rio do Janeiro.
The attendants downplayed current trade disputes and trusted that they would be resolved in negotiations because they consider the integration process of the two countries is not an alternative but an obligation.
It was also agreed that Brazil and Argentina should not limit their relations to trade and should extend to other areas mainly investments and production integration.
"In spite of the disputes the association of Brazil with Argentina is not an alternative or an option to choose but an obligation from which they can't flee", said Luiz Augusto de Castro Neves president of the Brazilian Foreign Relations Centre, CBRI.
"Only united can the two countries overcome the challenges of the current global economic crisis", added the former diplomat.
"I believe current differences can be overcome through negotiations" said Ivan Ramalho, president of the Association of Brazilian Foreign Trade Corporations, ABECE, in direct reference to the imports' licence system and other barriers which both countries have implemented on bilateral trade.
Ramalho said Argentina is Brazil's third trade partner and a significant investor, but if high added-value goods are taken into account, Argentina jumps to first place as Brazil's main partner.
The industrialist also pointed out while Brazil's export pattern to the rest of the world is concentrated in agriculture, mining and commodities, with Argentina there is a sustained increase in the exchange of manufactured goods.
Of the 22 billion dollars exports to Argentina last year, 20 billion were manufactured goods pointed out Ramalho, based on stats from ABECE.
The Argentine consul in Rio Marcelo Bertoldi said that the best way to overcome difficulties is through investment and production integration.
Bertoldi went on to enumerate some recent agreements between companies from both countries to jointly manufacture items such as tractors and harvesters, and investments in Argentina of major Brazilian corporations such as Camargo Correa.