Brazil re-assessing its 3bn dollars potash project in Argentina due to 'political risk'
Tuesday, June 5th 2012 - 23:53 UTC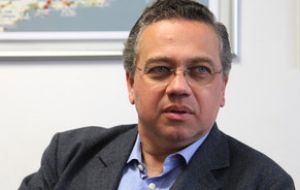 Brazil's Vale Doce, the world's second-largest miner, expects to overcome obstacles that prompted management to re-assess a 3 billion dollars potash project in the Argentine province of Mendoza, the company's head of fertilizers, Roger Downey, said.
Vale Doce said in April it would re-evaluate the 5.9 billion Reais project due to political and cost overrun risks.
The concession for the Rio Colorado potash project was suspended in the middle of 2011 when the provincial government of Mendoza accused Vale of failing to comply with local labour laws.
Earlier in April, Argentina worried investors when it initiated plans to seize control of Spanish-controlled energy company YPF to boost flagging oil and gas production.
"We remain in contact with the Argentine government, which is aware of the obstacles concerning the project" said Downey however "we're confident we'll overcome the difficulties with it".
This week, the Brazilian and Argentine governments will meet to address trade issues, such as the adoption of barriers by Argentina that have slowed Brazilian exports to its neighbour.
Marco Aurelio Garcia, special spokesman for President Dilma Rousseff on foreign affairs, said he "felt Rio Colorado would move ahead," after recent talks with Vale Chief Executive Murilo Ferreira and Argentina's Federal Planning minister, Julio De Vido