Santander bank chief praised Brazil as "the place to be to make business"
Tuesday, June 5th 2012 - 23:47 UTC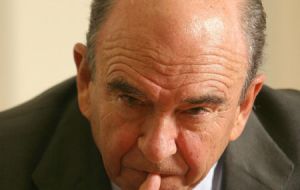 Emilio Botin president of Santander, Spain's largest bank and one of the leading EU financial institutions said that Brazil is the top priority for the group since it is the source of 30% of its global earnings and anticipated the opening of more branches in merit to the country's economic stability and social progress.
Botin was in Brasilia this week as part of the official Spanish delegation headed by King Juan Carlos visiting Brazil, and denied point blank any divestment possibility insisting that the Santander group is "delighted and fully satisfied" with its business in the country and pledged to continue to invest.
Santander so far has invested 27 billion dollars in Brazil, a market in which the whole Spanish investment is estimated in 85 billion dollars.
Following praise for King Juan Carlos and his "fantastic work" in support of Spanish corporations in Latin America, Botin added that "whoever is not in Brazil is not in Latin America" and underlined "for Spain it is essential that Brazil is doing good".
The president of the Santander board said he was very optimistic about Brazil a country which according to his opinion in "two to three years will become the world's fifth largest economy", plus the fact the country has economic stability, legal security and a solid institutional framework.
"This for our business means the Brazilian financial system is modern, well regulated and with a central bank really independent", emphasized Botin.
He also praised the entrepreneurial leadership of Brazil, "potent and innovating" and the administration of President Dilma Rousseff who has consolidated Brazil's long term economic growth with distribution of wealth.
The strong statements from Botin follow repeated articles in the Sao Paulo financial media saying that Santander was in negotiations to sell 40% of its stock to leading Brazilian banks with the purpose of capitalizing the bank in Spain.
However President Rousseff ordered any discussions or negotiations on the issue to stop since her government is in a strong struggle with the Brazilian banks to bring down interest rates.
Allegedly according to Rio's O'Globo, the Brazilian leader argued that any takeover of Santander would make the "Brazilian banks' oligopoly" even stronger and more challenging for her government's arm-twisting attempts to convince them to lower the cost of lending money, as part of propping an economy that is slowing down.