ECB warns EU leaders that monetary policy won't fill other institutions "lack of action"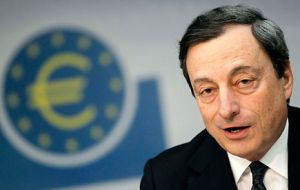 European Central Bank (ECB) president Mario Draghi said on Tuesday that risks to the Euro zone economy have increased and warned of "heightened uncertainty weighing on confidence and sentiment".

But he said governments needed to act to solve the debt crisis. "It is not right for monetary policy to fill other institutions' lack of action".

He added that European leaders have to sketch out a vision of how the Euro will work in the future, stressing that its benefits should not be underestimated.

"In the next European Council, what we expect is a clarification of this vision" Draghi told the ECB regular monthly briefing, referring to a meeting of EU leaders on June 28-29 devoted to the future of the single currency.

Draghi, along with EU President Herman Van Rompuy, head of the Euro zone of finance ministers Jean-Claude Juncker and European Commission chief Jose Manuel Barroso have been tasked with forming a "master-plan" for the zone's future.

The ECB head denied that contributing to this political work would compromise the bank's cherished independence. "It's better to be part of the outcome rather than be outside the process," Draghi said.

Some had hoped that Dragui would signal a new round of long-term loans to banks - a policy which is seen as having avoided a new credit crisis in Europe.

Under this three-year loan program, the ECB injected 1trilion Euros into the financial system in February and December 2011.

He said that, despite the continuing crisis in the Euro zone, there was no guarantee that such a move would be effective if the problems were due to government policy, rather than a lack of liquidity.

"Some of the problems in the Euro area have nothing to do with monetary policy," he said.

But he said that banks would continue to have access to all the short-term liquidity (one week, one month or three months) they wanted through fixed-rate ECB loans until at least 15 January next year.

He had previously said that the unlimited funds would be available until 10 July.

Draghi also said that the decision by the ECB to leave Euro zone rates unchanged at 1% had not been unanimous, with some members backing a rate cut.

Earlier, official figures had confirmed that the Euro zone recorded zero growth in the first three months of the year.

The ECB also released its latest quarterly economic forecasts of growth and inflation.

Its growth forecast for 2012 was unchanged at a range of between -0.5% and 0.3%, and there was some surprise among analysts that the prediction had not been cut. The inflation forecast was narrowed from between 2.1% and 2.7% to between 2.3% and 2.5%.

The Euro fell against the dollar during Draghi's news conference, on the news that the decision to keep rates on hold had not been unanimous, but then recovered.