Rousseff signs bill allowing beer sales in stadiums during 2014 World Cup
Wednesday, June 6th 2012 - 23:40 UTC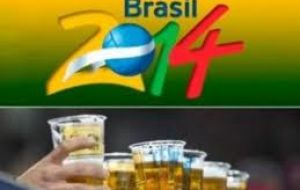 Brazil president Dilma Rousseff announced Wednesday the government will temporarily shelve a law banning the consumption and sale of beer in stadiums for the duration of the 2014 World Cup.
World football's ruling body FIFA had requested a change in the law following an agreement it signed with a major brewery.
The temporary amendment will also be applied to the Confederations Cup, to be held in 2013. It was finally published Wednesday following a long battle with members of parliament and of the Senate, who had approved the text on May 9.
The amendment includes a stipulation that will also be welcomed by students, the elderly and those less well-off.
After FIFA spent many months lobbying Brazil to soften its stance on beer in stadiums, Brazil secured from FIFA guarantees that it could sell a minimum number of match tickets at half-price to students, people aged over 60 and those who normally receive government hand-outs.
FIFA is set to put 300.000 tickets aside for Brazil to sell them on at half their face value.
Despite the amendment, opposition members of parliament insist FIFA must still negotiate with the various leaders of the federal states in Brazil. Brazil has traditionally had some of the worst statistics for football-related violence, some of it fatal, hence the introduction of laws banning alcohol in stadiums.
Brazil meanwhile has pledged to invest 13 billion dollars in stadium infrastructure and transport and expects work to be completed in 2014. According to official statistics, however, 40% of those projects have yet to get off the ground.