Uruguayan economist joins Brookings Institution as director of Latam Initiative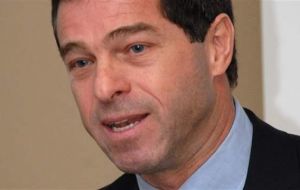 Ernesto Talvi, an expert on Latin America, emerging markets and economic policy, will join the Brookings Institution as director of the Latin American Initiative (LAI), Brookings President Strobe Talbott announced this week.
Starting in July, Talvi will serve as a senior fellow in the Foreign Policy and Global Economy and Development programs at Brookings.
Talvi, who has been a nonresident senior fellow with the Latin America Initiative since 2008, comes to Brookings with vast experience in applied research and economic policymaking. He currently serves as the academic director of the Center for the Study of Economic and Social Affairs (CERES) in Montevideo, Uruguay, and as Tinker visiting professor at Columbia University in New York.
Between 2001 and 2011, Talvi was a special advisor to the Inter-American Development Bank's (IDB) research department, focusing on global and regional macroeconomic and financial affairs. Talvi also served as senior research economist at the IDB research department in Washington, D.C. between 1995 and 1997 and visiting scholar at the International Monetary Fund's research department in 1994.
"Ernesto is the embodiment of the kind of scholar we prize at Brookings," said Talbott. "His intellect, experience, and reputation are world-class. So is his understanding of public policy and sound governance. At CERES, he's proved himself as an innovative institution-builder. He'll bring superb leadership to our commitment to the hemisphere."
"Brookings is a beacon for thoughtful, research-based policy proposals, and for stimulating a civilized debate which is essential in a democratic society. I fully share the values of the institution and thus am proud to be assuming leadership of its Latin America Initiative and contributing to Brookings's expansion of its global reach," Talvi said.
Earlier in his career, Talvi served as the chief economist and head of research for the Central Bank of Uruguay. During that period, he was also the chief advisor to Uruguay's economic team (consisting of the minister of finance, the governor of the Central Bank and the director of Planning and Budget office) and was in charge of the negotiations with the International Monetary Fund.
Talvi holds a B.A. in economics from the Universidad de la República (Uruguay), and an MBA and Ph.D. in economics/finance from the University of Chicago. In Uruguay he is identified with the conservative opposition and as such was a member of the 1990/1995 centre right government.