Fiji anticipates support for the C24 resolution on Falklands/Malvinas
Thursday, June 7th 2012 - 22:27 UTC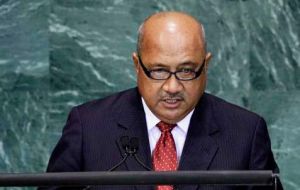 Fiji will continue to be part of the consensus in support of the UN Decolonization Committee resolution regarding the Falklands/Malvinas dispute, anticipated the Pacific islands Foreign Affairs minister following a meeting with the non-resident Argentine Ambassador to Fiji, H.E. Pedro Villagra Delgado.
According to reports in the local media, Fiji Minister for Foreign Affairs and International Cooperation, Ratu Inoke Kubuabola held talks on his country's support for the Malvinas issue with the non resident Argentine ambassador.
"I would like to reassure you that our position remains the same and that we will continue to be a part of the consensus in support of the resolution," Ratu Inoke told H.E Delgado.
Kubuabola said that the resolution of the Falklands/Malvinas will come before the UN Committee of 24 at its meeting on 8 June, adding that Fiji's support for the decolonisation remains.
He added that Fiji has always been fully supportive of the rights towards self-determination and the decolonisation process and would also like to see that both parties arrive at an amicable solution.
In addition, Ratu Inoke said that he had just returned from the Non-Aligned Movement Ministerial meeting in Sharm El-Sheik, Egypt where the same issue of decolonisation was raised for French Polynesia.
Fiji's proposal for the inalienable rights of the people of French Polynesia (Tahiti) to self-determination was adopted and reflected in the Outcome Document of the meeting.
At this meeting, there were also discussions on bilateral corporation between the two countries, especially in agriculture, marine, fisheries and forests, educational, and trade and investment. Sports like football could also be looked into.
"In areas of trade, a development cooperation agreement would be drawn to explore opportunities where we could work together with Argentina," Mr Kubuabola added.