Earl and Countess of Wessex visit Gibraltar to celebrate Queen's Diamond Jubilee
Friday, June 8th 2012 - 20:48 UTC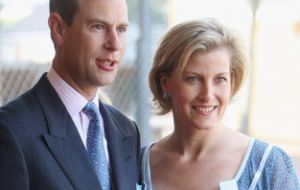 The Earl and Countess of Wessex – Prince Edward and Sophie - are visiting Gibraltar from Monday to Wednesday of next week as part of Her Majesty the Queen's Diamond Jubilee celebrations.
In a statement setting out the plans Gibraltar said that during their stay they will visit many parts of Gibraltar and meet a cross-section of people from across the local community. There will also be several opportunities for the public to give their own welcome to the Royal visitors.
Arriving at lunchtime on Monday, the couple is being met by the Governor Sir Adrian Johns and the Chief Minister Fabian Picardo. The Royal couple will then drive across the runway to RAF Gibraltar to inspect a Tri-Service Guard of Honour.
At a public ceremony at 7pm on Monday, the Royal visitors are laying the foundation stone for Gibraltar's Diamond Jubilee Monument on Line Wall Road where it overlooks the site of the new Jubilee Commonwealth Park. They then move on to a reception and dinner, both hosted by the Government, at which they will be guests of honour.
On Tuesday evening, the couple attends the Queen's Birthday Parade in Casemates Square followed by the Queen's Birthday Party at the Convent.
Their program also includes the opening of a children's playground at the Moorish Castle Estate and a visit to the Laguna Estate. These have been included at the express wish of the Chief Minister to enable the Royal visitors to meet a real cross-section of Gibraltarians from all walks of life.
In addition the program provides opportunities for Earl and Countess to meet local people at their other engagements, which include a meeting with local religious leaders and visits to Headquarters British Forces, the Mission for Seafarers, the Port Authority, the Museum and the new law courts. They will also meet those people involved with the Queen's 1954 visit during a visit to the Upper Rock and unveil a plaque on the Moroccan Fountain in Alameda Gardens to honour Moroccan Workers in Gibraltar.
The Earl is also scheduled to present Duke of Edinburgh Awards, visit Gib Dock and name a new boat and present regatta awards at the two rowing clubs. Meanwhile, the Countess's busy program includes visits to the Girl Guides' headquarters and to St Martin's School.