Environmentalists propose a whales' sanctuary ring along the American continent
Friday, June 8th 2012 - 23:18 UTC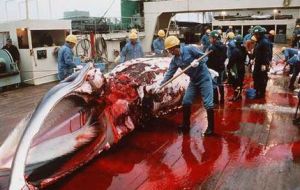 Environment organizations meeting in Panama will demand the creation of a whales' sanctuary in the south Atlantic and south Pacific, at the coming meeting of the International Whaling Commission.
"We are proposing that all Latin American countries continue declaring their waters as whales' sanctuary thus creating a great whales' corridor and sanctuary of the Americas. From Alaska to Chile and from Canada to Argentina, including the waters of the Caribbean", said Gabriel Despaigne from the Panama Green Association.
Panama next July 2/6 will be hosting the 64th meeting of the IWC, an organization created in 1946 by the International Convention for regulating the hunting of whales. However environmentalists fear the proposal, which has the consensus of most civil organizations along the continent, might not advance at the IWC and thus the proposal to present the petition directly to the governments of the region.
"If whales' conservation does not advance further with this poor obsolete commission, the region has the legitimacy and political power to propose our own conservation framework or agree on a regional treaty" said Jose Tudra head of the NGO Cetacean Conservation for the Brazil and Argentina chapters.
"Step by step in Latin America each country can declare its jurisdictional waters as a sanctuary", something which has already been done by Mexico, Panama, Costa Rica and Chile said Marcela Vargas, from the World Society for Animal Protection, chapter Costa Rica.
According to data supplied by Tudra during the XX century over two million whales were hunted by the fishing industry, which has left the cetaceans in the list of endangered species.
During the coming IWC in Panama the environmentalists will also underline the significance of whale-sighting as a source of tourism and income for countries and an alternative to hunting.
"There's a lot of talk about eco-tourism in woods and with birds, but watching whales and dolphins is experiencing a very rapid growth and is where the Latin American countries have a greater potential", said Truda who estimated in 2.1 billion dollars revenue from the cetacean sight-seen industry.
Environmentalists claim the IWC is more interested in defending the interests of Japan and other countries which actively are involved in the hunting of whales.