EU gets tough on border controls to address large-scale immigration
Friday, June 8th 2012 - 20:11 UTC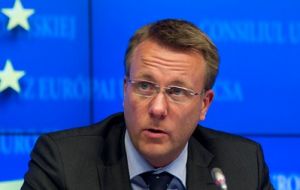 European Union governments would be able to suspend passport-free travel in parts of Europe for as long as two years under regulations proposed on Thursday to address concerns over large-scale immigration.
At a meeting in Luxembourg, EU home affairs ministers agreed on new rules that would allow countries to reintroduce border controls if one state persistently failed to stop illegal migrants from entering Europe's Schengen zone.
Such a decision would have to follow careful monitoring of the external borders for at least three months which revealed a "serious threat to public policy or internal security" in the EU.
Checks between the country failing to meet standards and other EU states could be put in place for six months at a time, with possible extensions up to two years. Other EU states would have to agree before passport controls could be brought in.
"There must be no weak links in the chain when it comes to illegal migration," Danish Justice Minister Morten Bodskov told a news conference after the meeting. "Steps need to be taken quickly if Schengen cooperation is under threat."
The proposed rules will have to win backing from the European Parliament before they can become law. To ensure the EU external borders are well protected, the ministers also agreed to step up monitoring of how checks are conducted.
One country that could come under increased scrutiny is Greece which regularly faces criticism for failing to protect its border with Turkey.
The EU border agency Frontex says it recorded more than 60.000 migrants crossing into Greece last year illegally, mostly people from Afghanistan, Pakistan and Bangladesh.
Greece's dire economic problems have also focused attention in Europe on a possible surge of Greeks or other Europeans seeking financial security outside their own countries.
Britain, for example, is drawing up emergency immigration controls to combat any surge in economic migrants from Greece and other EU countries if the Euro collapses, its interior minister said last month.
Last year, 23.800 Greeks migrated to Germany alone, 90% more than the previous year, German data show.