Scottish Veterans minister arrives in Falklands for commemoration
Monday, June 11th 2012 - 03:09 UTC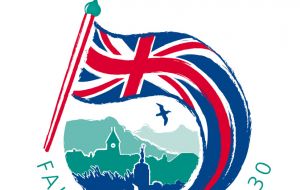 Scottish Veterans Minister Keith Brown is travelling to the Falkland Islands to take part in events to mark the 30th anniversary of their liberation.
Mr Brown, who served with 45 Commando during the conflict with Argentina, will visit several key sites in the battle for the islands. He will also officially represent Scotland's veterans during the Liberation Day events on Thursday.
The 74-day conflict left 904 military personnel dead, 255 British and 649 Argentine plus three Islanders.
Prior to setting off, Mr Brown said: "Many brave Scots were part of the task force that set sail to liberate the Falkland Isles, as were the service personnel from other parts of the UK who were based in, and who travelled from, Scotland.
"I was able to witness the tremendous courage, in the face of great danger and huge logistical challenges, that the men and women of the Armed Forces displayed to repel the Argentine invasion."
The Veterans Minister is due to arrive in the South Atlantic islands on Monday. He will visit Volunteer Point on the Tuesday and Blue Beach cemetery and Fox Bay the following day.
On Thursday he will take part in the Liberation Day service and parade, organised by the Falkland Islands government.
"Travelling to the Falklands 30 years on will mean I can thank on behalf of Scotland all those who sacrificed so much and showed such dedication and determination to repel the invasion," added Mr Brown.
"I will be able to pay particular tribute to all those Scots, and others who travelled from Scotland, as well as those who were part of the task force who have since made their home in Scotland.
"While the Falklands conflict was three decades ago, this anniversary should be a reminder of the first class job that the Armed Forces did then and continue to do now on our behalf, and the debt we owe them", concluded the Veterans Minister.