Brazil says economy should pick up in coming months in spite of world slowdown
Tuesday, June 12th 2012 - 23:08 UTC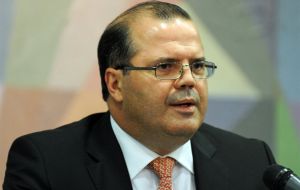 Stimulus measures enacted by policymakers in recent months should soon lead to a pickup in growth, breathing some life into Brazil after three straight quarters of stagnation, said central bank president Alexandre Tombini. However he warned about two years of slow global growth and markets volatility.
The economist said that an ongoing cycle of interest rate cuts, combined with recent government tax breaks for industry and selected consumer products, would begin having their desired effect in the coming months.
"From here on out, you're going to start seeing the results of those measures," he predicted.
He added that the recovery would be gradual giving the central bank room to keep easing interest rates should consumer demand need further encouragement.
Inflation so far "doesn't worry" policymakers, Tombini said, because recent indicators suggested prices, while increasing, were doing so at a manageable rate.
Beset by the fallout from the global downturn, which has sapped demand for commodity exports and discouraged investment by local business and industry, Brazil is struggling to revive an economic boom that led to annual growth of 7.5% as recently as 2010. Brazil posted growth of just 0.2% in this year's first quarter from the fourth quarter of 2011.
When growth began flagging late last year, President Dilma Rousseff made recovery the focus of her administration and prodded the central bank to spur the process by cutting Brazil's historically high interest rates.
Although the central bank enjoys de facto autonomy from the administration, Tombini and other monetary officials shared the president's view. Beginning in late August, they began a series of seven consecutive cuts that lowered the benchmark rate by four percentage points to the current 8.5%, a historical low.
Tombini during a hearing in Congress said that the global economy could suffer two years of slow growth and markets volatility as the European debt crisis drags on.
"Our view... is that in the coming months, quarters and maybe even in the next two years we could continue to see international market volatility and slow global growth," Tombini told lawmakers in Brasilia.
"Europe continues to post low growth and is subject to important short-term volatility."
Tombini reiterated that the Brazilian economy is prepared to deal with the external headwinds and should start to pick up speed in the second half of the year.