Cristina Fernandez announces plan to build 400.000 new houses in four years
Wednesday, June 13th 2012 - 08:17 UTC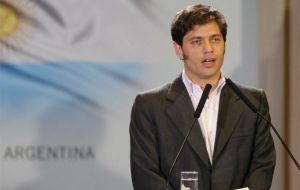 In an attempt to recover the political initiative and sliding opinion polls Argentine President Cristina Fernández announced the launching of an ambitious housing program aimed at building 400.000 homes in the next four years.
The mortgage financing program will grant up to 350.000 Pesos (approx 65.000 US dollars) exclusively for the construction of new homes and interest rates will range from 2 to 14%, depending on the family's monthly income.
At the ceremony on Tuesday afternoon the Head of State signed the decree creating the Argentine Bicentennial Mortgage Program, which was then introduced by Deputy Economy Minister Axel Kicillof. Funds will be provided by Social Security ANSES funds and Argentine Treasury.
ANSES head Diego Bossio clarified that there is no required minimum income to access the mortgage and explained that interest rates shall range from 2 to 14%, depending on the family's monthly incomes.
The mortgages options include with or without a plot of land, for which the Argentine government has done a survey of all the urban land it owns, some of it "very valuable" that will be used for housing programs.
Deputy Economy minister Kicillof mentioned that a total of 17.000 hectares of urban land had been surveyed and will be available.
The mortgage loans will be granted exclusively for the construction of new homes and will be payable in between 20 and 30 years.
"The Government aims to reverse the housing crisis which the country has been dragging since neo-liberal policies were applied to Argentina's economy in the seventies" added Kicillof.
The young economist who is described as "too interventionist" by orthodox colleagues, emphasized that loans are for the construction of "new houses" and not "credits to buy new houses", which was the main cause behind the monumental financial speculation and real estate bubble in the US.
Cristina Fernandez said the housing program will demand an agreement with all companies from the construction sector to avoid the "shortcuts" and "price fixing" when government plans are launched.
Private banks have a role to play, "instead of being so generous with the financing of credit cards and plastic money, we would now like them to invest some of those formidable earnings in the construction of new houses", added the president.
Argentine Government officials including Vice-President Amado Boudou, Buenos Aires province Governor Daniel Scioli, Industry Minister Débora Giorgi, Central Bank governor Mercedes Marcó del Pont also attended the ceremony.
Kicillof is considered the rising star among President Cristina Fernandez closest advisors, while Federal Planning Minister Julio De Vido who for the last eight years has been managing billions in investment funds and was a very close friend of Nestor Kirchner, is rapidly loosing ground and influence.