Stressed Lagarde' faux pas: "more shortly than three months to save the Euro"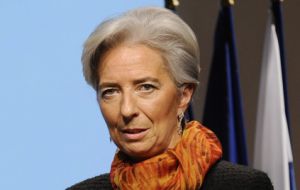 Action to save the Euro is required in "more shortly than three months," International Monetary Fund Managing Director Christine Lagarde said in an interview to CNN. The IMF chief response came after a reporter pressured the official to access billionaire investor George Soros' remarks that Euro leaders had three months to save the Euro.
"The construction of the Euro zone has taken time," Lagarde said as she tried to avoid setting a deadline for the actions. "And it's a work in construction at the moment."
But the IMF Director ended up giving in to the interviewer's pressure and agreeing action was needed "more shortly than three months", a statement that is tape recorded and of free access at the network's web site.
She publicly denied the three-month deadline later after her remarks jittered markets on Tuesday.
Lagarde declined moreover to forecast whether Greece would exit the Euro zone. "It's going to be a question of political determination and drive," she said.
Later on Tuesday Lagarde insisted that what "we need a strategy that is good for stability and good for growth - where stability is conducive to growth and growth facilitates stability".
"This must start with advanced economies, especially in Europe. Policymakers need to take decisive steps to break free of the crisis" Lagarde told an event at the Washington-based Center for Global Development.
Policymakers should aim for a combination of "very accommodating" monetary policy, use of common resources to provide direct support to banks and support growth-friendly policies where fiscally possible.
Lagarde said it was critical that governments in advanced economies outline credible medium-term plans to lower public debt. Without such a plan, countries might be forced to make bigger adjustments sooner, she cautioned.
The IMF chief said developing economies were holding up relatively well in the wake of increased financial strains in the Euro zone but will "face a cold chill" if global conditions worsened.
"Those with fiscal space should prepare to use it, especially if conditions continue to deteriorate," she added.