US "remain neutral" in Malvinas dispute, following referendum announcement
Wednesday, June 13th 2012 - 04:46 UTC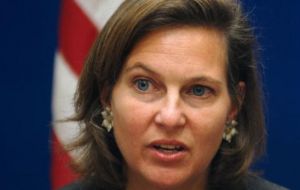 The US has stated that it will remain neutral in the Falklands/Malvinas Islands sovereignty dispute between Argentina and the United Kingdom, said the spokesperson of the US State Department's Victoria Nuland after the announcement that the Islanders will hold a referendum in 2013 to decided whether they want to remain British or not.
"Our position remains one of neutrality," Nuland said during the State Department's daily press briefing.
"We recognize the de facto UK administration of the Islands, but we don't take any position regarding sovereignty claims," she added, and rejected to comment on whether the US would change its position on the matter, which she called "hypothetical."
However on the insistence of the question about the (hypothetical) result of the referendum, Ms Nuland finally admitted she would "be delighted" to take the question, basically "whether the US will respect the results of the (Falklands') referendum and whether if that will inform your position, that would be very handful".
The journalist who insisted on the issue argued that "the results of a referendum that is overwhelmingly going to come out in favour of the Falklands remaining British, that's going to be a problem" for the US.
The Falklands government announced on Tuesday it will hold a referendum on the "political status" of the Islands in 2013 in order "to eliminate any possible doubt about our wishes", announced the Falklands Legislative Assembly member Gavin Short.
"We are holding this referendum not because we have any doubts about who we are and what future we want, but to show the world just how very certain we are about that", said MLA Short.
According to the official release the referendum will be organised by the Falkland Islands Government and will take place in the first half of 2013. Independent, international observers will be invited to follow the process and verify its outcome.
The decision comes only two days from the 30th anniversary of the end of the brief (74 days) South Atlantic conflict when a British Task Force defeated and ousted the invading Argentine forces.
June 14 is remembered in the Falklands as Liberation Day, precisely following the unconditional surrender of the Argentine forces.