Falkland Islands Holdings sees "significant opportunities" with hydrocarbons industry
Thursday, June 14th 2012 - 18:35 UTC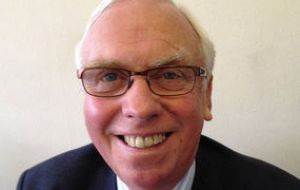 London' AIM quoted international services group Falkland Islands Holdings has raised eight million pounds following a subscription for shares by Blackfish Capital, an investment fund, reported the company in a release.
In addition, the company is making an open offer under which the company's existing shareholder can buy one open offer share for every 15 ordinary shares they own, with the aim of raising a further £2.0m.
The open shares will be sold at 320p each, the same price as which Black Capital subscribed. All of the company's directors are participating and excess application will be accommodated to maximise participation in the offer.
The proceeds will be used to exploit what it believes are "significant opportunities" that exist following recent hydrocarbon discoveries, as well as developing and expanding its existing business interests on the Falkland Islands.
Falklands emphasised that Blackfish Capital Management is supportive of providing further project related equity and debt-finance either directly or via its extended client network.
Chairman David Hudd said: "We are excited by the opportunity to develop the group's existing assets in the Falkland Islands in anticipation of the growth in the economy, which the board believes will follow from recent hydrocarbon discoveries. Given the company's history in the Falkland Islands and our leading position, we are confident that further investment now, will generate attractive returns.
"We are delighted to have a supportive keystone investor in Blackfish Capital and we believe that further investment now in the Falkland Islands is in the best interest of our shareholders to enable the Company to participate in what we believe could be an explosive period of growth."
The company added that the production royalty of 9% on Rockhopper Exploration's 1.3 billion barrel Sea Lion discovery alone could net the Falkland Island Government several billion dollars and would transform the Falkland Islands economy, which include a significant expansion of public infrastructure investment.
FIC's development sites and existing land holdings in Stanley total some 70 acres of land suitable for both commercial development and housing.
It said it also owns a number of sites close to the existing port on the outskirts of Stanley that are suitable for the development of a warehouse park for rental to oilfield services companies.