Merkel warns "Germany's strength is not infinite" and there are "no miracle solutions"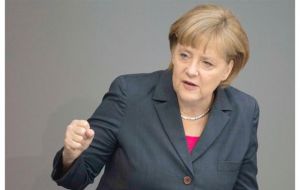 Chancellor Angela Merkel rebuffed pressure for Germany, Europe's most powerful economy, to underwrite debt or guarantee bank deposits in the euro zone.

Merkel, addressing parliament in Berlin on Thursday, rejected "miracle solutions" such as issuing joint euro bonds or creating a Europe-wide deposit guarantee scheme. Such proposals were "counterproductive" and would violate the German constitution, she said.

Instead, she called for gradual steps towards the "Herculean task" of building a European political union. "It is our task today to make up for what was not done (when the Euro was created in 1999) and to end the vicious circle of ever new debt, of not sticking to the rules," Merkel said.

She warned against overstraining the resources of Europe's biggest economy, saying: "Germany is putting this strength and this power to use for the wellbeing of people, not just in Germany but also to help European unity and the global economy. But we also know, Germany's strength is not infinite."

Merkel acknowledged that the Euro zone crisis, and Germany's role, would be at the centre of attention at next week's summit of the G20 major world economies in Los Cabos, Mexico. The leaders gather on Monday, a day after the Greek election.

Lilkewise Germany's deputy finance minister ruled out "Euro-bond-lite" plans to pool part of Euro zone countries' debt.

Speaking to BBC, Secretary of State Steffen Kampeter said "debt is a national responsibility" adding that "I don't see any strategies where we socialise and redistribute the bad political decisions made by some who are over-indebted."

The plan, from Germany's so-called "wise men" group of private economic experts, would let countries with debt above 60% of GDP such as Greece issue Euro bonds for debt above that level, which would then be paid down over a maximum of 25 years.

In effect, indebted governments struggling to borrow at affordable rates in the commercial markets would be able to take advantage of lower borrowing costs offered to countries within this joint bond, such as Germany.

It was put forward as an alternative to full Euro bonds, which would involve Euro zone economies clubbing together to issue bonds representing all 17 member nations.