C24 chair calls Falklands' referendum 'political ploy'; praises Argentine president
Saturday, June 16th 2012 - 05:14 UTC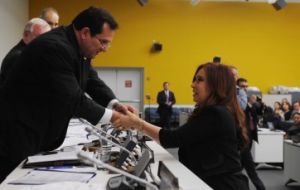 The chair of the UN Decolonisation Committee Ecuadorian ambassador Diego Morejón Pazmiño described the UK announcement of a referendum in the Malvinas Islands as a "political ploy", insisting that the Falkland Islanders can not appeal to the right of self determination.
"The referendum is a political ploy from the English government when there is a certain symbolism over the Malvinas issue because it is the anniversary of the war and because the Argentine president is here in New York" and was one of the speakers at the Decolonization Committee said ambassador Morejón Parmiño.
Last Tuesday and two days before the 30th anniversary of the end of the Malvinas war (June 14), the elected government of the Falkland Islands announced they would be holding a referendum in the first half of 2013 so that the Islanders can decide on their "political status".
The government of the Falkland Islands when making the announcement said that independent, international observers will be invited to observe the process and verify its outcome.
According to Morejon Pazmiño the Islanders can't appeal to the right of self determination they claim, because in the Malvinas case "there is a principle of territorial integrity" from Argentina which is above other considerations and the UK is the "occupying power" since 1833.
"The position of England is not that of an administrative power, it is that of an occupying power. It does not administrate a colony that can be claimed as independent. That figure does not exist in the C24", added the Committee chair.
"There are two issues: self determination and territorial integrity of States. You can't accept a form of colonization when there is a principle of territorial integrity, which is the applicable form in the Malvinas case", he added.
Of the 80 non autonomous territories that existed when the Decolonization Committee was created by the United Nations in 1960/61, only 16 are left, a majority of which under British control.
The chair of the Decolonization Committee underlined the attendance of Argentine President Cristina Fernandez on Thursday because "it gives the UN system credibility and likewise to the task of this Committee as a negotiating body".
He also mentioned the fact that the Argentine head of state was accompanied by representatives from the congressional opposition which is "a clear signal of internal cohesion in Argentina in an issue so bonding as is that of sovereignty".
Ambassador Morejon Pazmiño effusively congratulated and publicly praised the Argentine president following her speech and participated of the standing ovation which was started by the numerous Argentine delegation that accompanied Cristina Fernandez.
However he also admitted that until the United Kingdom does not modify its position "no negotiation is possible".
The UK position is that above all is the Islanders' right to self determination and as long as they wish to remain British and hold no discussions with Argentina on sovereignty, that is and will be the case.