Chilean Lower House votes unanimously to end "copper law" that finances the military
Saturday, June 16th 2012 - 05:57 UTC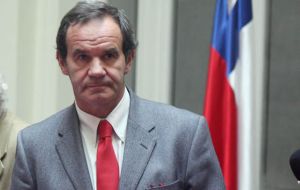 Chilean Defence Minister Andrés Allamand achieved this week a unanimous vote in the Chamber of Deputies for the proposal to change the funding system for the Armed Forces. The proposal, should it gain approval in the Senate, would put an end to the so-called "copper law," which has been in effect since 1958.
"This is a historic vote, where the ending of the copper law has been approved unanimously and a new financial system for the armed forces has been introduced," he said.
The proposal would to end ties between the military and Chile's state-owned mining company, Codelco, which funds the military through an annual 10% allocation its sales.
This means Congress would approve the military budget every four years. The budget must be equivalent to at least 70% of the military's average annual budget throughout the last ten years.
After a two-hour debate in the Chamber of Deputies, the proposal passed with a unanimous vote of 107 in favour.
Dep. Alberto Cardemil, of the conservative National Renewal Party (RN), explained the importance of the results.
"We are happy because this is a project that took many years" Cardemil said. The fact that it was Piñera's government and minister Allamand working with all the congressmen in the way you have seen is especially important."
"This will allow us to replace the copper law for a better one, that maintains and projects the military capacity of the country," he added. "It is a great historic accomplishment and a very important one for the National Congress".
Dep. Patricio Hales, of liberal Party for Democracy (PPD), spoke on behalf of the opposition, who also voted for the proposal.
"We made this approval for the country, not for the government" he said. "With a lot of work we have managed to end the copper law".
By Sumy Sadurni - The Santiago Times