Ireland's banking advice to Spain: "imagine the worst and double it"
Saturday, June 16th 2012 - 03:05 UTC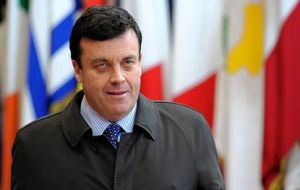 Ireland has this banking advice for Spain: imagine the worst and double it. Like Ireland, Spain sought a bank bailout after being felled by a real-estate crash. Now, just as the Irish did, the Spanish are awaiting the results of outside stress tests gauging the size of the hole in the banking system.
"Think of the worst possible scenario on banking losses: then double it," said Eoin Fahy, an economist at Kleinwort Benson Investors in Dublin. "Adopt the most conservative assumptions."
In Dublin Irish analysts wring three lessons from its own banking crisis, among the worst in history. First, quickly present an accurate estimate of the bad loans. Second, force banks to face up to losses, possibly through the creation of a so-called bad bank and third, share as much of the loss as possible with bank bondholders.
"Spain should face the economic reality, even if they have to value property loans at discounts of 40, 60 or even 80%" said Alan Ahearne, former economic adviser to Brian Lenihan, the finance minister who presided over Ireland's response to the near-collapse of its financial system. "If the real losses aren't faced up to, who's that going to fool?"
Spain's government already ordered banks to set aside provisions equivalent to 45% on the nation's 307bn Euro book of loans linked to real-estate developers, Economy Minister Luis de Guindos said May 11.
By bringing in outside experts to examine the banks, signs are that Spain is drawing some lessons from Ireland's mistakes. After agreeing to a bailout of as much as 100 billion Euros for its lenders, the Spanish government is awaiting the results of an audit of the banks by international firms Roland Berger Strategy Consultants and Oliver Wyman Ltd.
The IMF, in a report released last week, said that Spain's banks need at least 37 billion Euros to weather a contracting economy.
It took Ireland 2 1/2 years after guaranteeing the financial system in 2008 to bring in outside experts to comb through the banks' books.
In October of 2008, Lenihan called the Irish guarantee the cheapest bailout in the world, as the state had injected nothing into its lenders at that point. Two months later, he said the banks may need much as 10 billion Euros. Two years later, the central bank ordered lenders to raise a further 29.2 billion Euros. In September 2010, they needed a further 12.1 billion Euros, as loans were sold to the country's bad bank.
With bank costs escalating, investors shunned Irish sovereign debt and forced the nation into a bailout. As part of the rescue agreement, the central bank hired BlackRock Inc to assess the capital shortage at the banks. Based on those tests, the banks needed an additional 24 billion Euros.
"Spain has learned one key lesson," Fahy at Kleinwort Benson Investors said. "Bring in outside, completely independent people to assess the losses."