Pitting the idea of growth against budgetary rigour is 'simply rubbish' says Merkel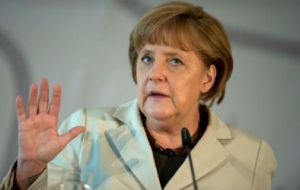 Germany's Angela Merkel regretted the lack of confidence among Euro leaders and warned against "mediocrity" as she stood firm against "growth quick fixes" to Europe's crisis.
Merkel insisted that hasty proposals such as Euro bonds, (backed by France), for pooling debt in Europe, would result in "mediocrity," while in Paris the government fought perceptions of a rift with Berlin insisting the two should work "hand-in-hand."
Europe's debt crisis can only be addressed by tackling its root causes, debt and uneven competitiveness, Merkel said, warning that proposals to mutualise debt or risk merely papered over the divergences between countries.
"Whoever masks that ends up in mediocrity. Mediocrity must not become the standard," Merkel warned to applause, addressing on Friday members of Germany's federation of family-run businesses.
And she complained that pitting the idea of growth against budgetary rigour in the debate over how to steer Europe out of its more than two-year-long debt crisis was "simply rubbish" as she strongly backed both principles.
With the threat of a Greek Euro exit hanging over Sunday's poll and global leaders heading to Mexico for a G20 summit from Monday, Merkel faces pressure for Europe's de facto paymaster to forge a solution.
But she is also under fire over her unwavering stance on strict budget consolidation as the way to tackle the turmoil, especially since Berlin's key EU ally, France, has pushed for a growth-led strategy under its new president.
French Prime Minister Jean-Marc Ayrault however seemed at pains Friday to cool any perception of sidelining Merkel, telling Europe 1 radio this was "absolutely not" the case and would be "a bad route."
France and Germany should work "hand-in-hand for a solution to pull Europe out of crisis," he said, a day after urging Germany not to "let itself go with simplistic formulas."
An Elysee source said however that regardless of what was said, a "real convergence" existed between Paris and Berlin. "The Germans support reaching an agreement with ambitious results" at an end-of-June EU summit, the source added.
European G20 leaders held a video conference Friday, in which they agreed on the need to "secure global economic stability and to support growth", Britain said Friday.
Prime Ministers David Cameron of Britain, Mario Monti of Italy and Mariano Rajoy of Spain took part in the call with Merkel and French President Francois Hollande, a spokeswoman for Cameron said.
European Commission President Jose Manuel Barroso and European Council President Herman Van Rompuy also participated in the conference, which was intended to serve as a coordination meeting before Monday's G20 summit.
Meanwhile, German central bank chief Jens Weidmann stirred a debate on the strings attached to Spain's June 9 deal for up to 100 billion Euros to save stricken banks.
Madrid should face "broad" conditions, not just conditions on its financial sector, in exchange for the aid, he told Friday's El Pais daily, warning that questions about the deal's terms were "eroding" commitment by other bailed-out Euro zone nations to the terms of their accords.