US foreign military sales already a record 50 billion dollars, up 70% from 2011
Saturday, June 16th 2012 - 05:54 UTC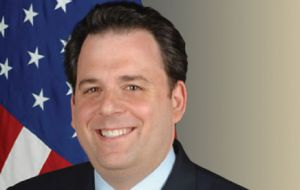 US Assistant Secretary of State for Political and Military Affairs Andrew Shapiro said that 2012 is already a record-breaking year for US foreign military sales, which are government-to-government sales.
Speaking in Washington this week about how the US State Department's Bureau of Political-Military Affairs is engaging with allies and partners to expand the defence trade, the US official cited some key data in the 655 Report released last week, which is an annual report of defence articles and services that were authorized for export.
The report focuses on direct commercial sales, and it showed that there was a more than 10 billion dollars increase in Fiscal Year 2011 in items authorized for transfer. In 2011, the Directorate for Defence Trade Controls, which is part of the Political-Military Bureau, processed more than 83,000 licenses, the most ever.
Shapiro said Washington had already surpassed 50 billion dollars in sales in Fiscal Year 2012. This represents at least a 20 billion increase over Fiscal Year 2011, with more than a quarter of the fiscal year left.
Fiscal Year 2011 was a record-setting year at just over 30 billion. This fiscal year will be at least 70% greater than Fiscal Year 2011. These sales support tens of thousands of American jobs, which are welcome news for the economy, according to Shapiro.
He noted that the United States has seen "tremendous growth and sales with developing countries and emerging powers such as Brazil and India, and this speaks volumes about our diplomatic efforts."
Despite the global economic strain, demand for US defence products and services is stronger than ever, Shapiro added.
He said the State Department was going to continue to press and advocate for US arms sales, adding that additional sales are expected in FY13 from countries like India. "We've made tremendous progress in the relationship (with India) over the last decade. We went from nearly zero sales to about 8 billion dollars in arms sales to India,"