"Who cares what an American official can think about the situation in Spain?"
Saturday, June 16th 2012 - 03:03 UTC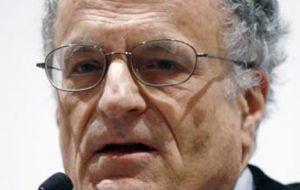 Economics Nobel prize (2011) Thomas Sargent admitted feeling "ashamed" when some officials from the US government make recommendations to Europe, Spain and other countries on what policies they should adopt to climb out of the current crisis.
California born Sargent closed on Friday a round of major conferences at the Cantabria Nobel campus in the northern Spanish city of Santander. Following his conference, the Nobel Prize criticized US officials who travel overseas and "try to offer advice and recommendations".
Sargent said that the US is going through "very similar problems" to those of Europe and has a hugely misbalanced budget plus a Congress and Executive divided as to how address this issue, the jobs market and the public health system.
"So, who cares what an American can think about the situation in Spain?" said Sargent when asked about the current economic crisis in Spain.
Nevertheless there are effectively other countries that can "really be taken as examples" both for the US and Spain, since they managed to climb out of their problems following very "painful decisions".
"I'm really ashamed when some of our government officials give the Europeans, Spain or China recommendations about what they should be doing", said the Nobel prize.
Regarding the possible consequences of the rescue packages or bail outs for countries, Sargent warned that paying debts "could mean changes or yielding" sovereignty and even government areas.
"That is what history teaches us. What is going to happen now? We don't know", said Sargent who admitted he ignored if the Euro has three months to save itself as IMF chief Christine Lagarde admitted in a recent interview and Germany's Angela Merkel somehow supported that feeling. He also refused to comment on the validity and influence of the risk rating agencies.
However Sargent questioned how the agencies reach their conclusion and if when they display their criteria, "it is a fact there will be an international bail out" or "a flight of capital". Risk rating agencies should know what actions the citizens and government of their countries are going to apply to honour debts, and if the neighbouring countries will also comply.
"If I am going to invest funds I need to know a reply to that question and how that conclusion was arrived to. I believe they currently are not doing that", said Sargent.
Thomas Sargent specializes in the fields of macroeconomics, monetary economics and time series econometrics. As of 2011, he ranks seventeenth among the most cited economists in the world. He was awarded the Nobel Memorial Prize in Economics Sciences in 2011 together with Christopher A. Sims "for their empirical research on cause and effect in the macro economy".