"An agreement over the Falklands is a matter of time", says world affairs analyst
Monday, June 18th 2012 - 03:12 UTC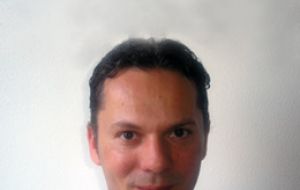 Analyst of the Investigation Conflicts Unit at The Hague, Ivan Briscoe said that some kind of agreement involving the Argentine claim of sovereignty of the Falkland/Malvinas Islands is only a matter of time.
Briscoe, who is also Buenos Aires Herald columnist, is a member of the Clingendael Institute in The Hague, an organization which acts as adviser to the Netherlands Government and the United Nations and helps them understand disputes in countries in Africa, the Middle East and Central America.
"In the long term I do not see how a population of 2.000 o 3.000 people who consider themselves British far away from England can avoid contact with their nearest country. It is a matter of time until there is a change in the relationship and some kind of agreement affecting the interests the Argentine claim to Islands," he assured.
Regarding the United Kingdom, Briscoe recalled the fact that before 1982 war Prime Minister Margaret Thatcher's administration had sunk low with a 20% approval rate and rioting hit the streets.
"However, everything changed with the war, which created a practically complete consensus in the British parliament, in media outlets and a nationalism which was manipulated by Thatcher's government, which made it very hard for any party or media outlet to openly renounce to the claim over the islands."
That symbolic value has been degraded in the generations that did not live the eighties' experience despite that tabloids play with the notion that Argentina will invade the Islands, something that is not featured in President Cristina Fernández de Kircher's agenda.
"A poll conducted in the UK regarding the importance of defending the Falkland Islands sovereignty everybody was in favour excepting the generation of young people born after the war,"
Briscoe added that the potential discovery of oil in areas surrounding the Islands would be another issue to take into account in the dispute. Stepping away from what many analysts say, Briscoe considers that the discovery of oil could bring Argentines and Islanders closer.
Oil exploitation in maritime area requires infrastructure in nearby shores and neither Uruguay nor Chile would support the UK because that would worsen their bilateral relations with Argentina.
Brazil would see it as an influence attempt that would hinder its own oil interests. Briscoe added that the discovery of oil in the South Atlantic would create short term tension, but it would also create an interesting horizon in terms of solving the conflict by either a shared sovereignty or a negotiation with a cession of rights to Argentina". (BAH).